Editor's column
We first came to your attention in September last year. After three editions, it was time to take a stock of what the readers really wanted something which is a commercial reality and a fact in a world of competition where you take stock of your product. This was our secret agenda for we believed and still continue to believe that there is no point in publishing a newspaper if it did not serve any purpose and did not have a sense of direction or courage to address issues without malice.

There were weeks of discussion pertaining to whether we wanted to empower the community with information and where considered appropriate harness the 'energy' to ensure that our voice is heard. Philip Lee (1995) said "A prerequisite of democracy is the democratization of communication, which in turn requires the empowerment of individual."

No one can deny that we are absent from the political scene. Oops! Except for few who have assumed the leadership role and in the eyes of some politicians are treated as our 'leaders.'

There are a lot of things that have happened and have gone unchallenged. Is the community being led or misled? Our objective is simple and clear "To contribute to building a better and stronger Indian community through a process of information gathering, sharing and through a process of partnership with other communities."

We spoke to several individuals, some under the mistaken believe that we have stopped publication. It was only during discussions that they discovered that we were serious about our intention to involve the community in the making of this paper. This edition is a proof of the consultation that took place in the last several weeks. As an outcome of the discussion we have had with several people, we in response have assembled a team to write regularly.
The Queensland Indian
PUBLISHED EVERY TWO MONTHS

Phone contacts:
[07]3420 0808
[07] 3844 0824
0413039368
Fax: [07] 3420 3326

Editorial team:
Mr. Prabhas, Sandra Lotfy, Savtika Karan, Parmesh Chand

Advertising and circulation:
Mr Deepak Kumar
Mr. Ravin Prasad
Mr. Prabhas

Address:
P O Box 12071
George Street Post Shop
Brisbane, Qld 4003.

Publisher:
Directors of The Queensland Indian
Graphic Design & DTP:
Libero Publishing
Press:
The Horton Media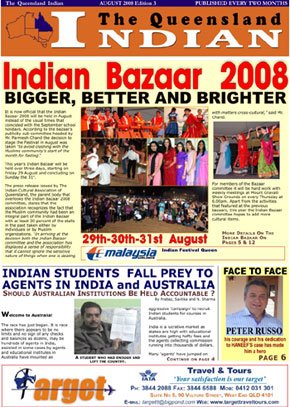 MEET OUR TEAM
They Are Our Volunteers
They are extremely dedicated, new and upcoming voice in our community.
They will dig deep, investigate and bring to you stories.
| | |
| --- | --- |
| | Satvika Karan |
| | Nidhi Sharma |
| | Prabhas Pandey |
INDIAN STUDENTS FALL PREY TO
AGENTS IN INDIA and AUSTRALIA
Should Australian Institutions Be Held Accountable?
By Prabaz, Savtika and N. Sharma
FACE TO FACE - PETER RUSSO with Parmesh Chand
"HE IS AN ORDINARY PERSON WHO JUST DID EXTRAORDINARY THINGS" - a rare quality to find these days.