Thank you for your sub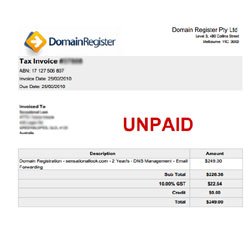 mission of 18 April 20xx to the Australian Competition & Consumer Commission (ACCC) regarding Domain Register Pty Ltd.
While I cannot comment on the legitimacy of individual businesses, the conduct you have outlined is not unlike a number of aggressive direct marketing schemes that take advantage of the combination of a busy office and a limited understanding of the domain name system and can result in payments by consumers for unwanted services.
This office has on numerous occasions received complaints about domain name renewal offers that falsely imply a prior business relationship when in fact the domain registrar is seeking new business. T
here are also those letters that may be regarded as a scam by many complainants but after careful reading it can be seen that the letter is an offer for a new domain name or service which may or may not be wanted by the recipient. For example, the offer could be for a domain name that is very similar to the domain name holder's original domain name such as
www.business.net.au
instead of the original
www.business.com.au
. Many complainants do not realise that this offer is for a domain name that is different to the one they already have.
Additionally, some letters offer extra services such as an offer to extend the period for registering the domain name or offering web-h
osting or mailing services. These are usually sent to businesses that have already paid for the registration of the domain name at some stage.
You have specifically asked what protections may be available to your clients. Whilst I cannot provide you with legal advice I can advise that it is a breach of Section 64 of the

Trade Practices Act 1974

for a corporation to assert a right to payment from a person for unsolicited goods or services unless there are reasonable grounds for believing a right to payment exists. In other words, if a purchase has not already been authorised, then there is no obligation to pay an "account".
To prevent falling victim to unscrupulous practices this office also advises that the following procedures can be adopted in order to avoid unethical businesses asserting a right to payment for unsolicited goods or services, and you may wish to suggest to you clients that they:-
·
Educate staff about
scams and other business practices such those referred to above.
·
Have only one person in the business authorised to pay accounts.
·
Conduct all negotiations for goods and services in writing.
·
Do not take verbal assurances at their face value, check and ask for confirmation in writing.
·
Advise staff not to offer suppliers information about your business as this may be used at a later time to allege that you or someone they know by name or rank has authorised a purchase.
·
Should you receive an invoice or statement for goods or services which you have not authorised or solicited, retain it and immediately inform the business, in writing, that you do not intend to pay. Keep a copy of this correspondence.
I note that you have also alleged that Domain Register attempted to gain authorisation for the supply of its goods by "deception". If the conduct was misleading or deceptive it may constitute a breach of section 52 of the Trade Practices Act. While you and your client have already written to Domain Register, you may both wish to consider writing again advising the following:
·
You have contacted Fair Trading Offices and the Australian Competition and Consumer Commission who have advised you to put your complaint in writing to them;
·
You at no time sought the services of Domain Register

;
·
Any authorisation Domain Register has received to deduct payment should be disregarded on the basis that their unsolicited offer for new services misled you to believe a prior business relationship existed when this was not the case. Consequently, the conduct may be a breach of section 52 of the

Trade Practices Act 1974;
·
You have not received and do not wish to receive any of the services purportedly on offer;
·
In the circumstances, you will be attempting to recover payments made; and
·
If Domain Register

maintains a mailing list of potential clients and your details appear on this list, these details should be removed.
A copy of this correspondence should be retained for future reference.
In the past, it is the experience of this office that refusal to pay these "accounts" has met with little resistance from the supplier, however since you have already sent
Thank you for bringing this matter to my attention as the ACCC uses this information to establish patterns of conduct that would indicate further action is appropriate and develop educational materials and advice for businesses and consumers.
Thank you for your advice to contact Fair Trading Offices; I have done it, and for your pleasure here is ?!?! the answer: